Anna Dankova
GOLEM
movement performance | Bulgaria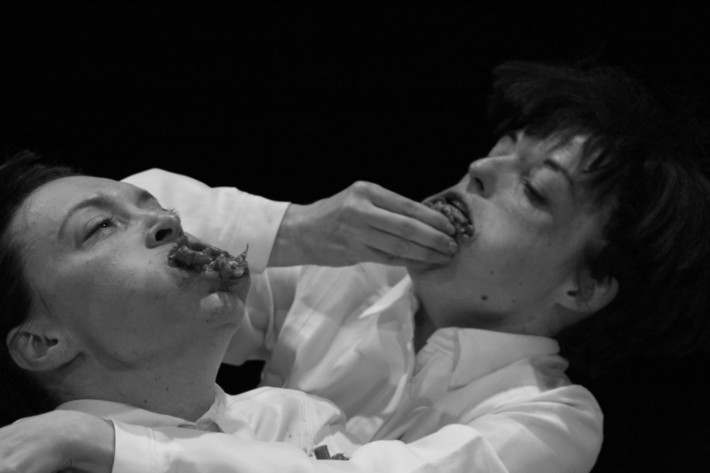 "Golem" is a movement based performance which explores the contemporary world constituted mainly by the free market and the global informational flow. The widely spread epidemic of consumerism is the crazy centrifuge of resources in terms of material products, emotions, sexual drives, desires. The performance ascetically chooses the simple routine act of chewing a gum for its only means of theatrical exploration. The project interprets the eternal dream for Paradise and circles around the trinity "emptiness – consumption – pollution" in the context of the ancient Jewish myth for Golem.
Duration: 60 min

Director: Anna Dankova
Performing: Iva Sveshtarova, Violeta Vitanova, Irena Tsvetanova
Scenography: Stanimir Genov
Sound: trohi
Costum design: Leda Ekimova
Drama assistance: ghostdog
Photography: Jaka Mihelič
Anna Dankova is a freelance theatre director, exploring multi-genre and border performative practices. She has MA for Journalism, studied Film and TV Directing, in 2002 she graduated MA Directing for Drama Theatre. Anna Dankova studied and practiced different psychoanalytical and psychotherapeutic schools as the most extensive and experienced she is in the field of Psychodrama. 2017 graduates MA Psychosocial Artistic Practices. Projects: "TAXITA", performance ( 2007 ); "Ultrasonic", sight specific installation( 2012 ); "COSMONAUT", performance ( 2013); "A Walk in the Park" by Charles Mee, promenade theater, International Festival "Varna summer"(2014); "Golem", performance ( 2016); "Kiev-Berlin 2013-2015" studio Я, Theatre "Maxim Gorky", Berlin ( 2017 ); "Ada Lovelace", performance (2019).