Sorour Darabi
FARCI.E
dance performance | Iran, France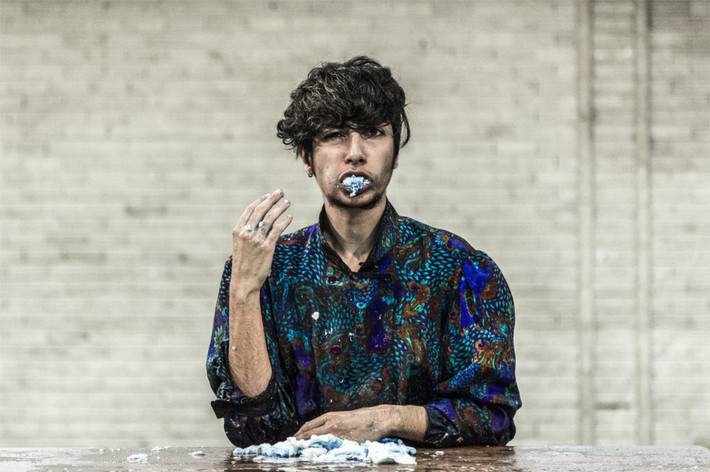 This work investigates gender in a comprehensive and visceral way, from its biological (de)formations (the body), to its cultural constructions (sexual identity) and linguistic definitions (the gender of words and objects).
"My native language, Farsi, has no gender markers. Grammatically, there is no need to identify the sex of the speaker. Neither articles, verbs nor adjectives have masculine or feminine versions. Nouns are neutral.
The constant attribution of gender in language and communication has raised a lot of difficult questions. What if I want to talk about myself in neutral terms? What does it mean to be basically defined by gender and to continually have to express it? And why not switch gender from one sentence, one moment or one day to another?
How many of my body parts are feminine and how many are masculine? Am I feminine, while my vagina is masculine? What kind of fantastic story is the French language trying to tell by assigning a sex to words and things?
In my native language, Farsi, the word gender "جنس" (jens), has two very different meanings: applied to human beings and animals, it refers to their biological sex, as in most languages.
But, applied to things and objects, it refers to the material they are made of, for example, the "gender" of this table is wood. So, I have always thought about gender in terms of material, rather than sexual identity."
Duration: 45 min

Concept, Choreography and Performance: Sorour Darabi
Light Design: Yannick Fouassier
Lighting Operator: Jean-Marc Ségalen
Outside Eye: Mathieu Bouvier
Production: Météores
Co-production: Festival Montpellier Danse, ICI-CCN Montpellier Occitanie / Pyrénées Méditerranée with the support of CND Centre national de la danse - Pantin, Honolulu-Nantes and the Théâtre de Vanves
Sorour Darabi is a self-taught Iranian artist currently living in Paris. Before joining the choreographic master's program Ex.e.r.ce at the Centre Chorégraphique National de Montpellier (direction Mathilde Monnier & Christian Rizzo) in 2013, she/he was already very active in Iran. Member of the underground association ICCD, she/he presented various works at the Teheran festival Untimely. Between 2013 and 2015, while studying at the Centre Chorégraphique National, she/he created Subject to Change, a performance that questioned the processes of transformation through time and co-habitation with the environment.