Liquid Loft / Chris Haring
DEEP DISH
dance performance - a live choreographic film; final part of the Perfect Garden Series in collaboration with Michel Blazy (FR) | Austria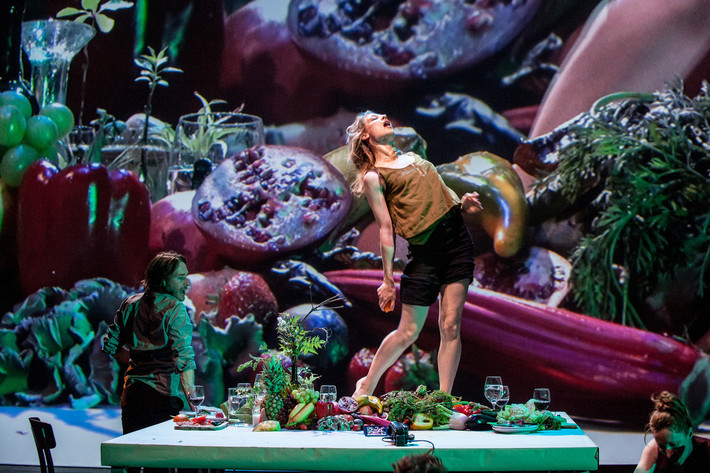 Performance will be followed by a QA session with the creators and audience – for Combined season ticket – WE HAVE.
Combined season ticket of independent cultural organisations in Maribor MAMO/WE HAVE
A dinner party turns into an adventurous ride through the dimensions of macro- and microcosms. The live images of a handheld camera, directed by the performers, lead us through bizarre parallel worlds of organic objects. Methods of film-making, along with acoustic contortions, evoke metaphors of baroque gardens, earthly delights and their inevitable collapse. A society driven by longing and curiosity, flamboyantly but also callously celebrates its own transience in the manifold dimensions of reality, blown up on a big screen. In this still-life, all movement and human behaviour is inexorably absorbed by the opulence of nature.
As in the novel Locus Solus, in which the polymath Maître Canterel guides his invitees through different landscapes, one encounters in Deep Dish the beauty and the decadence of a human existence that will soon perish. In the Perfect Garden Series by Liquid Loft in collaboration with the fine artist Michel Blazy, the motif of the garden is an expression of the human striving for control and their futile escapes from their own transience but also an image of growth and proliferation that constantly leads to the development of something new.
Duration: 60 min

Dance & choreography: Luke Baio, Stephanie Cumming, Katharina Meves, Anna Maria Nowak
Artistic direction & choreography: Chris Haring
Composition & sound design: Andreas Berger
Dramaturgy, scenography & lighting design: Thomas Jelinek
Organic sculptures & consulting: Michel Blazy
Stage management: Roman Harrer
International representation: Line Rousseau
Production management: Marlies Pucher
Co-production: Tanzquartier Wien and Liquid Loft in co-operation with Korzo Den Haag and Le Centquatre Paris.
Liquid Loft is supported by: The Cultural Section of the City of Vienna, (Kulturabteilung der Stadt Wien) and the Austrian Federal Chancellery for Arts and Culture (Bundeskanzleramt Österreich, Kunst & Kultur)
Event is supported by: DANCE ON TOUR AUSTRIA – Ein Kooperationsprojekt des Tanzquartier Wien und des Bundesministeriums für Europa, Integration und Äußeres / DANCE ON TOUR AUSTRIA – a project by Tanzquartier Wien in cooperation with the Federal Ministry for Europe, Integration and Foreign Affairs.

Chris Haring, artistic direction, choreography
Austrian choreographer Chris Haring worked with choreographers and companies such as DV8 Physical Theatre (London), Nikolais/Luis Dance Cie (USA), man act (GB), Nigel Charnock (GB), pilottanzt, a.o. In cooperation with multimedia artist and composer Klaus Obermaier he developed the video-dance performances D.A.V.E. and Vivisector which have been successfully shown all over the world. One of his main influences for his performances, such as Fremdkörper (Best Performance at Biennale de la Danse in Lyon 2004), is science fiction and the human body as a cybernetic landscape. Since 2005 he is artistic director of Liquid Loft. He choreographed performances such as Kind of Heroes, Running Sushi, Talking Head and the Perfect Garden Series. In 2007 the Posing Project Series was created and Posing Project B – The Art of Seduction won the Golden Lion for the Best Performance at the Venice Biennale.
In 2010 Chris Haring received the Outstanding Artists Award for performing arts from the Austrian Federal Ministry of Arts.